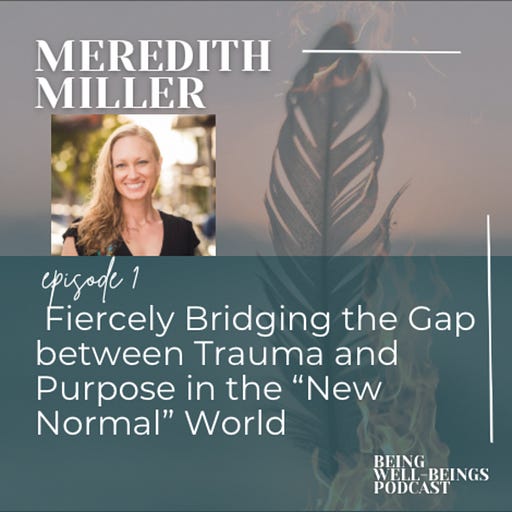 Feb 6 • 1HR 42M
Fiercely Bridging the Gap between Trauma and Purpose in the "New Normal" World - Meredith Miller
Welcome Coaches, Counselors, and Well-being pros who align with and stand for holistic health freedom of body, mind, spirit, and Soul. ****** We are digging into the roots of Coaching and the Well-being field while stoking the flames of its flight and sparking a reimagination of its future. We have a unique podcast vision for curious conversations and intentional exchanges while exploring all things related to 'Being Well-Beings' on the Earth right now. Our intention is to focus on stories and solutions for both bridging and building a parallel path forward while fueling a revolution of Well-being practitioners. ********** Currently our podcast platform does not link all episodes to Substack, please follow these links to join in the conversations! https://wavve.link/beingwellbeings/episodes https://www.coachesforfreedom.com/beingwellbeingspodcast Or search for 'Being Well-Beings' on all major podcast platforms: Apple, Spotify, Anchor, iHeart
For the inaugural episode of the Being Well-Beings podcast, I was honored to get to connect with
, and even more appreciative of how genuine, kind, authentic, and down to earth she was both during recording as well as offline before and after we recorded - such a pleasure to have this experience as one of my first interviews. She is definitely the real deal.
is a holistic coach, author, and speaker who helps people self-heal after narcissistic abuse and other toxic relationships. Her mission is to bridge the gap between trauma and purpose. She teaches mindsets and tactical tools to help with recovery.
In 2020,
began speaking out about the psychological abuse patterns—from the micro to the macro—she was observing in the "New Normal" world. Her holistic perspective on the global events underway can help people understand the baffling behavior of others while offering inner solutions for addressing our collective and individual trauma.
She is also bi-lingual in Spanish and has offerings to communicate her message to the Spanish-speaking community, which, given my heart for the Spanish speaking community, is pretty powerful, and well, just rad.
In this conversation, we discuss the psychoneurospiritual state of captivity occurring on both the micro and macro levels amidst the current state of affairs on the planet, and why it is so important to inner-stand this as we forge the path forward.  She also shared with us a bit about her journey to becoming a Coach, and we riffed on thoughts around the field now and going forward in this 'new normal' world. 
Meredith dropped the mic a few times with some tough love insights and advice at this point of time in 2023. While there are a few others speaking publicly about the psychospiritual implications of the state of affairs in the world right now, I find Meredith's perspective and method of communication to be the most tangible, digestible, and resonant for the majority of common individuals - it is something that I believe most of us can understand given our individual and collective experiences with abuse. 
I really think there is something meaty in this discussion for all. Some of her recent writings and wisdom dropped in this conversation certainly have been light bulbs in my own inner-standing, I hope that you too will find some inspiration or encouragement from this interview.
I am also so grateful to you for joining me on this journey of launching the Being Well-Beings podcast. Launching the podcast has been a long time in the making and I must say, the last few weeks of doing interviews has been a deeper spiritual challenge than I fully imagined. Bringing forward these kinds of conversations and stories and very real human thoughts and experiences in and around the Coaching & Well-being professional space is something I sense is extremely important to the work right now and going forward. Honestly I thought someone else would already be doing it by now, but since that doesn't seem to be the case, here I am, and here we are!
lots of gratitude, hugs, & Aloha
L
https://rumble.com/c/InnerIntegration
https://meredithmiller.substack.com/
Meredith's presentation referenced in the interview is linked here.
Link to podcast on Apple, Spotify, iHeart, Anchor
Thanks for reading Coaches for Freedom! Subscribe for free to receive new posts and support our work.